In English:
'English Library' Books
AA.VV. Keats and Italy
Elizabeth Wahn Lindsey and the Jedgar
Nancy Watkins The Poet's Room
About the authors
Videoclip readings
Italian Poetry in English translation
Alleva Letter in the Form of a Sonnet
Alleva The Inherited Gold
Colafato Transmutuations and Discollusions
Dalessandro The Observatory
Palmery Garden of delights
Palmery In Four
Palmery I Does Not ExistPalmery Medusa
Ricci The Enemy's Horses
Events
Art and Artists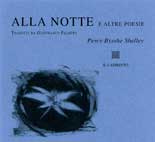 Il Labirinto books

'Love for the authentic, the exceptional, for literary knowledge'
About the publisher
Il Labirinto is a quality Italian publisher specialized in poetry, narrative, essay and art. All books contain original artwork done expressly for them by contemporary artists. Many of the first edition books are issued in numbered copies and some have hand-sewn bindings. The Il Labirinto web site features live readings by Italian poets.
---
The 'English Library' series
---
About the authors (in English)
Live readings Italian Poetry Readings
Our 2012 catalog Catalog
www.labirintolibri.com homepage Il Labirinto Homepage
The website was created
in-house by Studio Il Labirinto