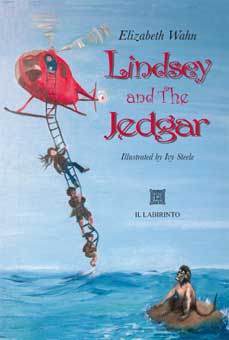 US List Price: $6.99
Buy now
(link to secure checkout)
UK List Price: £5.99
Amazon UK
:

---
Author Visits

---
Classrooms - Libraries - Special assemblies - Drama Club - Shakespeare festivals

"In Lindsey and the Jedgar, Wahn's goal was to hook children on Shakespeare. She's accomplished that and a great deal more. A former English teacher, she employs her knack for conveying serious messages through humorous stories… delightful." Mia Rowan, The AWAR Forum.


"(Wahn is) a Shakespeare devotee intent on making Shakespeare accessible to children."
Michael Reynolds, The American Magazine
Choice of Programs:
Children. Mysteries are a sure-fire way to get kids engaged in reading. This lively presentation captures children's imaginations while whetting their appetite for Shakespeare. It never fails to get the kids laughing and, before they realize it, learning as well. Advance materials are provided. Ages 10-12
"A Dream Comes True. An author coming here, during RIS book week, to talk about her book? It seems it could be reality only in a story, but as Walt Disney said: "All our dreams can come true, if we have the courage to pursue them (...).". Jacopo, Grade 6. Rome International School. read the full review

Schools: American Overseas (the largest English language school in Italy) Middle School Coordinator Sarah Ellyson commented on the excitement generated by an author visit, "Literary enthusiasm ricocheted throughout the cafeteria while Elizabeth Wahn recited from portions of her book, Lindsey and the Jedgar. One hundred and twenty of our sixth and seventh grade students were well-primed for the book's theme [...] Some of the students had already obtained copies, so were eager to ask more probing questions of the story and her thought process for choosing the theme. "Why did people have to recite poems to enter the Island of Elsinore?" and "What inspired her to use Shakespeare so strongly in her book?"

Adult Organizations: Ms Wahn is an experienced speaker whose lively but thought-provoking presentations make her ideal for adult audiences.
"Our predominantly British Club is accustomed to high quality guest speakers, so I was extremely pleased when Elizabeth Wahn accepted my invitation to address the membership at one of our luncheon meetings. Her topic, "Shakespeare for Kids" was great fun indeed. This playful little lady had even our stodgiest members popping out of their seats to recite Shakespeare—and when she finished, they rushed to buy copies for their children or grandchildren."
Mary Handley, President, Commonwealth Club

Drama Groups: What Does This Gorilla Have to Do with Shakespeare? This short play features budding actors and is ideal for school performances. It is also great fun for amateur groups.
---